It's been a while without a decent news isn't it ? Don't worry, while we didn't published any major changes on this page, we would like to present you several things that are planned for the Beta release, coming in few months. Of course, all the content you will see right now was made after the Pre-beta release. We're not "recycling" old things

---
Soundtrack, the more developed it is, the better it is
You both know that all mods we are developing have their own soundtrack, produced and composed by indie composers. Truth is that, for Mass Effect Reborn, we developed a soundtrack that had no sense at all. It means that, in fact, both tracks weren't at all relative of the same spirit, the same atmosphere. In Mass Effect tracks, you can hear something that makes all tracks related. There's a sort of "soundtrack architecture". In other words, it means that having a lot of tracks when almost all of them are not related is by far not useful. 
If you are interested by MER's OST, feel free to follow Draco Nared on YouTube. He's by far a talented composer and... he's just a student. Having such skills when you are not a professional is really impressive. Don't listen too much tracks nor you'll be addicted, that's for sure

---
A new game launcher... because the old one wasn't enough polished.
Don't you know that we, at Phoenix Interactive, are working on Mac OSX and Linux compatibility for our modifications ? While both modifications we have are working on Mac and Linux (Ubuntu, except online mode), our setup architecture wasn't working at all. Therefore, with our team, we decided to re-code everything we made for our launchers. Now, they are working perfectly on these systems, which is really great. You know that we want to make the things easier for all of you and having a such system is impressive. There's an update system, there's a warning system like "New donwload available" and so on... It's something really powerful.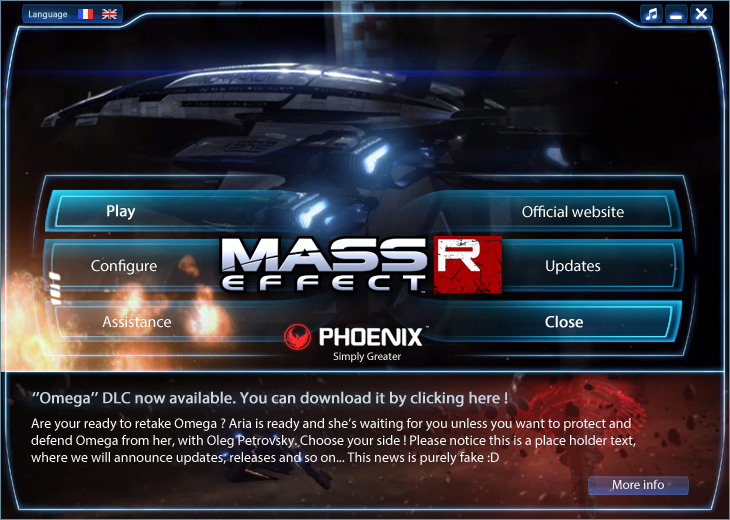 This launcher will be available in
English
and
French
. Please notice that if you want to contribute in order to add other languages, feel free to contact us directly via using
this link
.
---
Global State of the mod
The last time we published a news on ModDB, we said that we were developing a research system. While the research system is not finished, we solved some bugs in Mass Effect Reborn. Other than that, our creative director, Julian Vinet, is not working on Mass Effect Reborn. If you follow us on Facebook or, at least, on ModDB (Stargate Space Conflict), you'll know that Julian Vinet is creating the Destiny from Stargate Universe. He wants to create the best 3D model he ever made. It's just a matter of time. However we have various conceptual arts, which belongs to Ice-Dragon. He's a great modeler. He gave us some concepts for Cerberus and the Alliance. We plan to publish some 3D pics as soon as possible.
We need testers for Mass Effect Reborn
Yeah, Mass Effect Reborn is still WIP and we still need testers ! We plan to publish Job adds soon. Stay tuned. However please notice that our website is still WIP and it should be released at the end of July. So... You know the date guys. 
© 2015 Phoenix Interactive Inc. All rights reserved. Phoenix, the Phoenix logo, and the name Phoenix are the property of Phoenix Interactive. Other product names, organizations and/or companies mentionned in this document belong to their respective owners.